Development and Engagement Coordinator
20 November 2023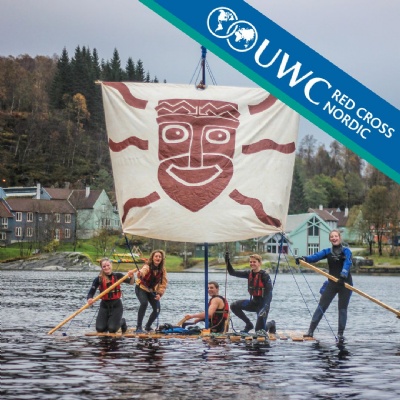 Job title: Development and Engagement Coordinator - 100% permanent position
Campus: UWC Red Cross Nordic
Date application closes: 1st January 2024
United World College Red Cross Nordic (UWC RCN ) was founded in 1995 in Haugland in Fjaler municipality. The school is a boarding school with approximately 200 students from more than 85 different nations, with teaching based on the International Baccalaureate Diploma Program (IB). The UWC mission is to use education as a force to unite people, nations and cultures for peace and a sustainable future and our students are intentionally selected from a variety of backgrounds. After two years at UWC RCN, most students start higher education at prestigious universities around the world. The school also organizes summer camps for children in collaboration with the Red Cross and camp school stays for Norwegian school classes. The school currently has 60 permanent employees, with approximately half in teaching and the other in administration and support functions.
Development and Engagement Coordinator - 100% permanent position
We are looking for a highly motivated and skilled Development and Engagement Coordinator with good
interpersonal qualities to support the engagement work and lead the development of our alumni community. The successful candidate will be a member of the Advancement team and will report to the Director of External Relations & Communications. The position is based at campus, in Flekke, Norway.

You will be responsible for developing an enriching relationship between RCN and its core constituencies,
starting with alumni. You will coordinate all efforts in connection with RCN alumni engagement work and
be the key person between RCN and the alumni community.

The goal is to establish life-long, mutually value-creating relationships between RCN and alumni all over
the world.
Work Area
The Development and Engagement Coordinator will work in close collaboration with the other members in
the Advancement team being the person in charge for all aspects of RCNs Alumni Engagement work.
Through alumni engagement efforts, alumni will be offered different opportunities for engaging with RCN
and engaging in the development of RCN.

Our vision is for alumni to always retain a special affiliation to UWC Red Cross Nordis and to serve as
RCN ambassadors, both as private individuals and in a professional capacity. In collaboration with RCN, RCN communities can contribute to increasing- and promoting RCNs contribution to society.

We want to build a culture of giving, in terms of time, treasure and talent to keep the alumni network
engaged and committed to RCN and its values. We aim to strengthen the alumni network to enable it to
continue to serve as a platform for volunteering and fundraising that will have an increased importance in
the years to come. The role will include support for the Director of External Relations for endowment
giving through alumni.

The coordinator will be responsible to implement systems and routines to achieve the above mentioned
goals.

The coordinator will further be a key catalyst to put our vision into reality by setting up a roadmap for short
term, medium term and long term objectives, with an action plan and subsequently be in charge of the
evaluation and revision of the overall Engagement Strategy plan. The work may require some traveling.
Required Qualifications and Competencies
Verbal and written fluency in English language
Relevant higher education; international relations, volunteer management, higher educations administration,development, fundraising and business and/or related field
Efficient and accurate ways of working in a fast-paced environment in education
Demonstrable experience in volunteer management, community development, fundraising and outreach
Experience in operations of Customers Relationship Management (CRM), demonstrable experience in outreach and community communications strategies
Excellent communications skills and IT skills, including awareness of GDPR
Good interpersonal- and networking skills
Knowledge about or interest in educational and international institutions
A commitment to diversity, equity and inclusion in the workplace
An understanding of, and support for, the UWC values and mission.
Event organizing experience
Desirable Qualifications and Competencies
Good knowledge of reporting procedures and record keeping
Methodical and diligent with outstanding planning abilities
A business acumen partnered with a dedication to legality
Self driven and result oriented
A good team worker
Excellent communication skills
Our offers
An exciting job opportunity in an international environment locally
Working in a supportive and motivating team focused on UWC RCN's vision and values
Good pension and insurance schemes
Possibilities for professional development, learning and growth
Access to the Red Cross Haugland rehabilitation center's pool and training room
Access to various outdoor activities and equipment, organized through the school
Working on the banks of this beautiful fjord in an international community provides a unique opportunity to live and work locally in a global community established to educate for peace and sustainability. Our vision is to build an integrated team of employees made up of those with local roots and others with global
connections and international experience. Terms and conditions are designed to attract the best
candidates with appropriate qualifications and experience who are committed to the work of UWC RCN.

You must submit a police certificate that is no older than three months before you can take up the position.
If the position seems interesting and exciting to you we ask you to send an application and your CV to
appointments@uwcrcn.no.
Application deadline is 01.01.2024.
For questions regarding the position or for the full Job Description please contact Administrative Team Leader
Leif-Arne Skaar, phone number +47 913 35 723 , email address leif-arne.skaar@uwcrcn.no, or Director of
External Relations & Communications Leonora Laukeland Kleiven, phone number +47 414 48 297 or email
address leonora.kleiven@uwcrcn.no.