Deputy Head
7 October 2021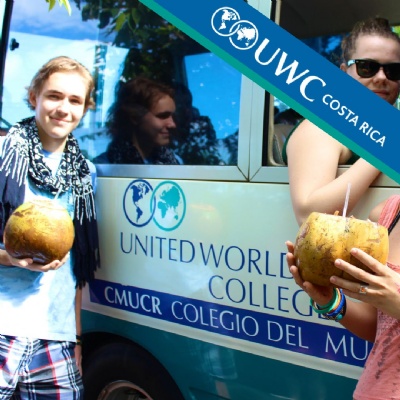 UWC Costa Rica

ABOUT UWC COSTA RICA
United World College (UWC) Costa Rica is a non-profit foundation that offers 16-19-year-old students a two-year residential pre-university program that values experiential learning.
Our educational program encompasses three main areas: Academics
(International Baccalaureate Diploma), Co-Curricular and Residence Life.
All activities and learning opportunities incorporate one or more of UWC Costa Rica´s six competencies:
social responsibility
diversity
conflict
transformation
sustainability,
leadership
healthy lifestyle.
As the only UWC in Latin America, we offer a bilingual program, opportunities to learn more about the social, political, and cultural history of the region, and options to explore Costa Rica. Learn more through our website.
UWC COSTA RICA MISSION
Our mission is to educate a diverse group of young men and women to become happy, healthy, and committed individuals, capable through their leadership and engagement, of fostering positive change in their communities in order to contribute to achieving a more sustainable and peaceful world.
Read more about the UWC mission and values here.
WHY WORK AT UWC COSTA RICA?
Costa Rica is a special country with a long-standing history of peace, democracy, environmental protection
and absence of a national military. In addition, it is a country where education can have an impact on society, provides the ideal setting to develop UWC Costa Rica´s curriculum that reinforces the six competencies of the UWC Costa Rica Educational Model:
Diversity: With 70 nations represented on campus and a diverse local population, our staff is immersed in a
truly global experience.
Leadership: We offer our staff multiple opportunities for professional development such as participating in
Association for Experiential Education conferences and multiple leadership workshops throughout the year.
Sustainability: Costa Rica runs off 99% renewable energy and over 25% of the land is dedicated to
conservation. This is reflected in the eco-conscious mindset seen on campus through our recycling
campaigns, greenhouse, dietary choices, guest-speakers and volunteer projects.
Conflict Transformation: Regional politics such as the abolishment of the army and pacifism make this a
fascinating country to develop this competency. Our staff are trained in conflict resolution skills grounded on Restorative Justice.
Social Responsibility: Our students and staff have the unique ability to engage in local community impact
projects steps away from our classrooms and throughout the country.
Healthy Lifestyle: Combined with the warmth of the Latin American culture and living in a country repeatedly ranked as the happiest, our staff are exposed to and benefit from a caring and supportive community.
You can find more information about UWC Costa Rica and why to work there in the attached Job Profile.
GENERAL OBJECTIVE OF THE DEPUTY HEAD ROLE
The Deputy Head is a senior-level leadership position, reporting directly to the Head of School with overall responsibility for the implementation of the Educational and Operational of the College's Strategic Plan. Together with the Head, co-leads the development of the College's Annual Plan. The College is planning a move to a new purposely designed campus in the coming years. The Deputy Head will have the responsibility to help lead the design and transition process. The Educational Program covers three main components within the experiential education approach: Academics, Co-Curricular, and Residential Life. The School's operational aspect covers legal and representational requirements, human resources management, and internal factors related to finances, operations, safety, and conduct regulations. They assure that all programs and activities are aligned with the College's mission, values, and competencies.
REQUIREMENTS
Live on campus
Master's in Education, Educational Administration/Leadership, Experiential Education, or closely related field.
10+ years of experience in a minimum of two schools, in a position of leadership or significant involvement in educational leadership and supervision in an international and diverse context.
Demonstrated professional experience or significant knowledge with the IB Diploma Program.
Previous experience in residential schooling at secondary level is highly desirable.
Demonstrated experience in school operational management (Operations, Safety, Finances and Facilities).
Experience working with adolescents in educational environments.
Native speaker or a high level of proficiency in written and spoken English. Fluency in Spanish is desirable
Strong identification with the mission and vision of UWC Costa Rica
Inclusive and collaborative leadership style
Conflict Management Skills
Strong situational judgement
Intercultural sensitivity and understanding
Stronginterpersonal and communicationskills
Organizational management skills
Passionate commitment to the holistic development of youth
AREAS OF LEADERSHIP
Distinctive Educational Model
Ensures an efficient implementation of the educational programs of UWC Costa Rica: Academic, Residential Life and Co-Curricular programs within the experiential education approach. Ensures the implementation of UWC Costa Rica´s six competencies: Healthy Lifestyles, Social Responsibility, Sustainability, Leadership, Conflict Transformation and Diversity. Development and strengthening of the UWC Costa Rica educating and learning community.
Quality and Efficiency of Processes and School Planning
Together with the Head of School and the Financial Director, ensuresthe long-term financialsustainability plan of the institution and leads the School´s annual budget planning process. Together with the IT Analyst, supervises that the institution's technology strategy is adequate to support the development of the educational programs and the operation of the School. Supervises the quality of the institution's infrastructure and maintenance program.Follow up on the implementation of the Human Resources strategy.
Supervise the correct implementation of Human Resources systems; induction and guidance process, policies and procedures, performance evaluation, professional development, and provide due follow-up to them.
Safety and Crisis Management
Together with the Residential Life Director, lead the school's Child Protection Program.
Together with the Management Team members, leads the crisis situations based on the implementation of the protocols.
Role of Child Protection led together with the Residential Life Director.
Lead the Safety Committee of the School.
Lead the COVID-19 Committee of the School.
SALARY AND BENEFITS
The salary will be regionally competitive and will depend on the qualifications and experience of the successful candidate. Benefits include the house on campus, health/life insurance, travel allowance,
and professional development opportunities. Salary considerations and the length of the contract will be detailed during the interview process.
APPLICATION PROCEDURE
UWC Costa Rica has partnered with Search Associates to facilitate the search for a new Deputy Head. Paul Poore is serving as the lead consultant.
Qualified candidates should send the information listed below as a single PDF File attached to an email as soon as possible, but no later than October 7, 2021.
A letter of application, explaining your strengths as a candidate and why you are interested in the Deputy Head position at UWC Costa Rica.
A statement describing your leadership and educational philosophy, not to exceed two pages.
A current resume not to exceed two pages.
At least three or four references from supervisors including one for your current position. Each reference should include updated addresses, phone numbers, and email addresses of the supervisors.
Candidates should send all requested information directly to Paul Poore at Search Associates: ppoore@searchassociates.com
We reserve the right to close the search earlier than the stated application deadline if a suitable and qualified candidate is found early in the process. Interested applicants should submit all required materials as early as possible.
Please note that we will not forward-on candidates for further consideration by the hiring school/organisation if a candidate is under contract or otherwise encumbered in such a way that would preclude them from freely entering into a new employment contract, if offered, and being available for the start date stipulated by the hiring organisation. Search Associates will contact the current employer/supervisor to request completion of a Search Associates Confidential Leadership Reference Form for all Applicants who emerge in the search as a Finalist.
Please see the attached PDF document for the full version of the candidate profile.