Dean of Student Life
13 November 2023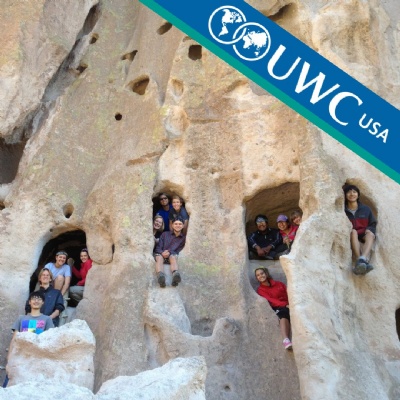 What is the context?
Founded in 1982, the United World College-USA is one of 18 United World College (UWC) campuses worldwide and the only campus in the United States. The UWC movement seeks "to make education a force to unite people, nations and cultures for peace and a sustainable future." As such, UWC-USA values and promotes all manner of inclusion, diversity, equity, and access as part of our fundamental mission to bring people together across differences in service of a more peaceful and sustainable world. With the IB at the center of our academic program, and a strong focus on experiential learning including in a multinational/multicultural boarding environment, UWC-USA stretches its students, faculty and staff to learn and grow in a multi-perspectival community dedicated to democratic processes as reflective of our country location and traditions.
What is the UWC-USA mission?
We embrace the UWC mission "to make education a force to unite people, nations and cultures for peace and a sustainable future" by preparing students to serve as catalysts for greater unity, peace, and sustainability in their personal lives, in their communities, and in their relationship to the environment. We accomplish this through intentional, place-based programming, an integral approach to our programming and our lives together, and ample opportunities for student autonomy and leadership under the guidance of caring staff and faculty.
How is UWC-USA unique?
Our participation in the UWC movement and our philanthropy-based educational model distinguish UWC-USA among international boarding schools. As a UWC two year school, we recruit students through national committees worldwide. Our philanthropy-based model makes our educational program widely accessible to students from families with modest financial resources, no matter where they live in the world. Together, these two advantages allow us to bring together students whose identities, experiences, and ideas create a microcosm of the world on our campus, which is located in rural northern New Mexico.
Why are we searching?
UWC-USA has been led internally and externally by the President for 7 years. During that time the work has been to develop a strategy in two phases. The first phase is to strengthen the foundation of our school. The second to innovate for impact. Now that we are well into implementation of the first phase of our strategy, we have identified a new Associate Head of School to provide daily leadership in support of integration and innovation across our educational programming. The new Dean of Student Life will support the Associate Head in this work through co-creation and focused management of a UWC mission- and values-aligned student life experience and by leading and innovating within all student life programming including residential life, basecamp team organization and support, student leadership development, student health & wellness, and student discipline from a restorative justice approach. The Dean of Student Life will also be part of the Educational Leadership Team, which includes the Dean of Teaching and Learning, Dean of Students, Director of Admissions, Director of College Counseling, and the Registrar, and the Student Success Team, which includes the Dean of Teaching and Learning, Director of University Counseling, and Learning Support Coordinator. They will also lead the Health Team, which includes the medical and counseling staff, Director of Residential Life, and Dean of Teaching and Learning. The Dean of Student Life will live on campus.
What is our point of view?
On challenges in the world
UWC's mission began in response to the international tensions of the Cold War. Its mission to bring young people together before their prejudices are solidified, in service of peace and a sustainable future, is as important as ever. In the world our students know, the main obstacles to unity remain differences in identity that too often separate us from one another: nationality, culture, language, religion, ethnicity, race, gender, and sexual identity. The main obstacles to peace and sustainability today are not entirely new either, but the globalizing forces of our age have reshaped them. No matter where our students come from they increasingly see these challenges up close in local, national or international settings:
Economic, political, and social inequality between those at the center and those on the margins of societies worldwide;
Political polarization rooted in ideology, grievance, and uneven democratic practice/ institutions;
Climate change, ecosystem destruction, and biodiversity collapse resulting from destructive modes of production, consumption, and land use;
Accelerated technological innovation that alters our relationships to information, work and one another.
In this global context, our students face the more personal challenge of growing into healthy young adults and thoughtful leaders amid real cultural, social and educational tensions worldwide:
Just as they embrace the great diversity of people and cultures in the world, they feel the powerful forces of assimilation and homogenization that threaten local identities and the wisdom they contain.
New social identities, relationships and networks are welcome at this age, but the bonds of affection and solidarity are weakened by the intrusion of markets and the media in their personal and interpersonal spheres.
Twenty-first century technologies - increasingly available to schools - are changing exponentially, yet they need connections with adults and one another to ground them.
The global marketplace and new technologies will continue to transform our students' relationships with others, learning and work, presenting both new opportunities and new obstacles for their personal well-being in the world.
On opportunities in international, boarding school education
The UWC boarding school was founded primarily to facilitate international and intercultural understanding by bringing young people from all over the world to live and learn together. Its early partnership in the creation of the International Baccalaureate made it a pioneer in inquiry based learning. Its focus on experiential learning and the importance of diversity also established it as a pioneer. Today, there is a greater variety of educational models in the international boarding school sector than ever before. This development encourages all international boarding schools, including UWC-USA, to think creatively within and beyond the predominant models we have inherited. UWC-USA is a full participant in an ongoing dialogue across UWC International and the International Baccalaureate Office (IBO) about new educational directions that best meet the opportunities and challenges of our age.
On UWC-USA at this moment
Two time-bound factors are also shaping the context for the search for a Dean of Student Life:
Strategy Implementation: We are currently finalizing the implementation of the first phase of our strategic plan - to strengthen the foundation - while at the same time beginning the second phase of our plan, to innovate for impact.
- Strengthening the Foundation: The Dean of Student Life will support the Associate Head of School in completing implementation of foundational initiatives to ensure an excellent student experience across our academic, co-curricular, and residential programming. Key foundational initiatives include refining our use of a relatively new student information system and learning management system; strengthening the central role of the Constructive Engagement of Conflict and Integral Sustainability in the educational experience of our students; and developing our residential life curriculum.
- Innovating for Impact: The Dean of Student Life will work closely with the Associate Head of School to inform the ongoing development of a number of impact initiatives related to the educational program. Key impact initiatives include: Increase the number of students we engage annually through a new initiative (e.g., summer program, virtual program) that aligns with our two-year program and student recruitment goals; challenge students to develop a range of leadership competencies; work with Dean of Teaching and Learning to design a model for learning expeditions that will foster more place-based learning.
A newly defined role: The Dean of Student Life role has been paired with another senior role for many years, but because of the critical nature of the role, we are separating these roles again. Establishing the role in light of the vision, strategy, mission and values of UWC-USA will be vital to continue the school on a deliberate path. In addition, direct work with students is an important part of the role, so the Dean of Student Life will live on campus and be expected to be fully present for the residential experience.
What is the role?
The next Dean of Student Life will need strengths in three categories:
Strategy implementation
Creative and collaborative ability to develop the student life curriculum and policies while bringing faculty and students along
Acting as a bridge across constituencies through strong relationship building skills.
Strategy implementation: Dean of Student Life will need to...
Manage intersection between UWC-USA's mission and the school's vision, strategic plan, educational programming, staffing and development, and student experience
Engage in innovation while recognizing UWC-USA's time-honored DNA as an intentional, demanding, adventurous, and outward-facing learning community
Articulate and advocate for the ways in which the student life experience in an international, residential school is evolving in our rapidly changing world, shaping the implementation of our strategy along the way
Measure progress against strategic aspirations and annual goals in collaboration with the Associate Head of School
Distributed Leadership Execution: Dean of Student Life will need to...
Work closely with the Associate Head of School as a strategic thought partner
Lead collaboratively in an environment that invites all members of the community to "lead from where they are"
Coach faculty and students for growth and development
Communicate effectively and inspirationally with all stakeholders
Acting as a bridge: Dean of Student Life will need to...
Work closely with the Associate Head of School in order to inform the President's vision and strategy for the school
Manage, coordinate, and build relationships among the faculty, students, staff, and Associate Head of School
Manage and coordinate educational programming, focusing on the intersection of programming with faculty capacity and the two-year student experience
Engage and communicate across constituencies, from faculty and staff to students
Serve as part of the Student Success Team and the Educational Leadership Team, co-leading it when the Associate Head is away
Seek dialogue in leadership decisions to develop leadership across the school
Care for and celebrate students, staff, faculty, leadership team members and volunteers
Who should apply?
Required Qualifications
Strong identification with the vision, mission and values of UWC-USA and ability to articulate and translate them in strategic and day to day implementation of programs
Three or more years of successful teaching in a multicultural school and in the International Baccalaureate Diploma Programme
Demonstrated capacity to provide leadership in the social-emotional growth and well-being of young people in residential learning environments
Ability to proactively build a culture of safety, respect, and responsibility in the student body
Knowledge of curricular practices, research and methodologies for secondary residential school environments
A proven track record of supporting student and faculty performance and retention
Knowledge of principles of experiential education
Commitment to learning and modeling constructive engagement of conflict among colleagues and students
Knowledge of restorative justice practices in educational settings
Knowledge of best practices in diversity, equity, inclusion and access and the requisite skillfulness to support student and staff growth in this area and to facilitate critical conversations in the design of inclusive curriculum and programs; demonstrated commitment to such practices
Commitment to learning and modeling personal, communal, and environmental sustainability
General familiarity with relevant laws and regulations that govern educational institutions
Ability to use good judgment in establishing priorities and assessing and engaging difficult situations
Exemplary discretion and confidentiality
Ability to collaborate with colleagues within the profession, including within the larger UWC movement
Empathetic leadership style; open, accessible, and collaborative
Outstanding organization and communication skills, including spreadsheets/GSuite
Excellent written and verbal communication skills
Required Education/ Experience
Master's in Education, International Education, Experiential Education, Independent School Leadership/Administration, or related field.
10+ years of experience in a minimum of two schools, in a position of leadership or significant involvement in educational leadership and supervision in an international, boarding, or diverse context. At least three years in secondary, residential schools.
Required License
Valid NM Driver's License, and must be insurable by the school's insurance carrier.
Desired Qualifications
Experience implementing curricular innovations
Theoretical and practical background in residential education
Independent, international and/or boarding school experience
Ability to teach one IB subject
Applications
Application review for the Dean of Student Life will begin on a rolling basis December 15, 2023. Please send the following materials:
Cover letter, CV, and three professional references (note: we will not be contacting any references unless you are selected as a semi-finalist).
A one to two page response to each of the following two prompts: 1) In a world that is hyper-scheduled and hyper-focused on constant digital connectivity, what bold steps could UWC-USA take in its residential programming to provide students with the power of their embodied experience in the here and now? 2) With polarization, inequality, and climate crisis at the center of our work, what opportunities for intentional programming do you see as part of a residential experience encompassing a diverse community of students? How do we help students to see the full richness of their diverse experiences, and to learn from them?
We will keep all inquiries and applications strictly confidential until the semi-finalist phase, at which point it may be necessary for us to make limited outreach to references.
If you have any questions, please contact hr@uwc-usa.org directly, or visit UWC USA Careers Page.