Davis-UWC IMPACT Challenge
30 March 2017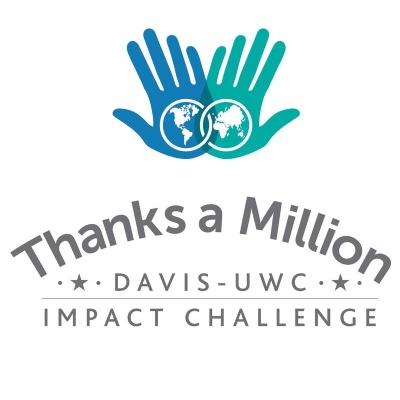 What is the Davis-UWC IMPACT Challenge?
UWC Patron Shelby Davis launched the Davis-UWC IMPACT Challenge across the then 15 UWC schools and colleges in August 2015, extending his pledge to UWC's two new schools - UWC Thailand and UWC ISAK Japan - in September 2017. This USD $17m match-funding incentive was designed to encourage and increase donations from UWC alumni, parents and other UWC supporters. 17 of the 18 UWC schools and colleges will benefit from $1 million in new funding provided they register an overall increase in the number of alumni, parents, friends and family making gifts.
To date, UWC schools and colleges have unlocked USD $16.7m in matched funding. Thirteen colleges have completed the challenge but all others are still working on it and need your help!
You can read all about the Davis-UWC IMPACT challenge including how it works and how the funding will benefit UWC on the dedicated "Thanks a Million Challenge" website here.
And if you need some inspiration, here are the stories of some of the students that have had the opportunity to attend UWC thanks to a scholarship raised through the Davis-IMPACT Challenge.
How to make a gift
Most gifts made to UWC schools and colleges by UWC alumni, parents, friends and family after 1 August 2015 will be automatically matched by the Davis-UWC IMPACT Challenge. There is no additional action required of individual donors in order to activate the match, if eligible your donation will automatically be included in the challenge.

We are now in year five of the challenge which runs August 1, 2019 - July 31, 2020. The cut-off point for having donations matched this year is July 31 2020 (the final banking day in July) – funds must have reached the college bank account by this date to be eligible. If your donation reaches the college after July 31 it will be counted in the next matching period which runs August 1, 2020 - July 31, 2021. Gift matching continues in annual cycles until each college has reached the USD $1m target.
Thank you for your support!
You can make your gift via the standard UWC donation channels as shown on this website. See how to donate for more information!
Colleges continuing into year five of the challenge
Thank you for all that you have done and for all that you continue to do for UWC.
If you wish to give to a UWC school or college but are based in the US, UK, Singapore or Europe and want to maximise your tax benefits please see information on tax efficient giving.