Building and Crossing Bridges / Belgium
16 July 2021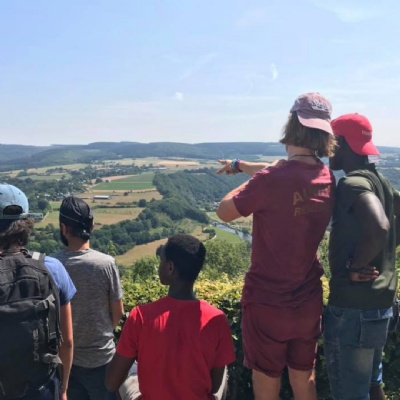 "Building and crossing bridges" will serve as a metaphor throughout the Short Course.
The aim is to gather young people from diverse backgrounds together in order to build one united community where teenagers can empower each other. They will be encouraged to challenge themselves through workshops, physical and psychological activities, social experiments, debates, theatre and games.
Acknowledging and understanding why we are so different often leads to more constructive outcomes in our rapidly changing, diverse world. With this in mind we emphasise empathetic communication and listening when becoming part of this powerful network of like-minded, young change makers, who stay in touch and work together to improve their societies.
DETAILS
Dates: 10 July - 23 July 2021
Location: Ardennes, Belgium
Application information: The application form can be found on this page, via UWC Belgium.
Application deadline: 22 April
Course fee: 450 €
Eligibility: Students aged 15 - 19 years.
Scholarship availability: Scholarships are available for applicants living in Belgium. A limited number of places are also available to (direct) applicants, without scholarship needs, from Europe, Middle East and Northern Africa. Scholarships are available for participants selected through UWC national committees from Europe, Middle East and Northern Africa.
Website: Building and Crossing Bridges
Facebook or Instagram
Email address: shortcourse@uwc.be
UPDATE REGARDING COVID-19
Dear applicants,
We are extremely happy to be able to share with you that we will be organising and hosting a short course this summer! Due to the COVID-19 pandemic and current regulations in place, we had to make certain amendments to how we organise the short course. For this reason, the short course will have less participants and we will only be able to accept applications of individuals who are residing in Belgium. We will continue to monitor the situation and adapt our programme to be in line with the measures that will be in place this summer. Although times continue to be uncertain, and the possibility that it may not happen will still exist, we are determined and will do everything in our power to make it possible. For more information, please read the information below. You can follow us on Instagram, or Facebook to get the latest updates, or check our website regularly. If you have any questions in the meantime, do not hesitate to reach out to us by email: shortcourse@uwc.be!
In the meantime, please take care of yourselves, your loved ones and your community!
The Belgian Short Course Team