Building a Sustainable Future / UWC Germany
17 August 2017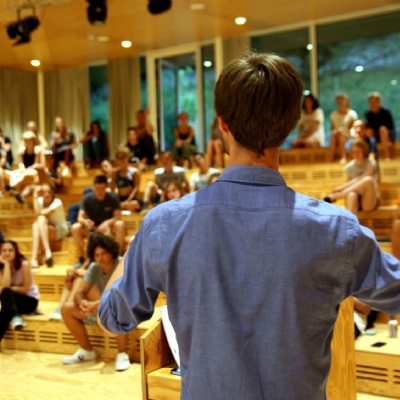 1-17 August 2017, UWC Robert Bosch
The UWC Short Course "Building a Sustainable Future" is a 17-day residential summer programme organised by UWC Germany to spread UWC values, and enable critical engagement and youth dialogue in Germany and beyond. The Short Courses are based on the nine core values of UWC:
• International and intercultural understanding
• Celebration of difference
• Personal responsibility and integrity
• Mutual responsibility and respect
• Compassion and service
• Respect for the environment
• A sense of idealism
• Personal challenge
• Action and personal example
UWC Short Courses in Germany date back to 2009 ("Shaping Society!"), followed by a special UWC Short Course focusing on sustainability in Freiburg, 2012 ("Taking responsibility") and "Overcoming Walls" on social conflicts.

Since last year, Deutsche Stiftung UWC is running the UWC Short Course "Building a Sustainable Future", picking up the focus on sustaina bility on the UWC Robert Bosch College in Freiburg and creating a continuing legacy of German UWC Short Courses. This year sees the second iteration of this theme. The UWC Short Course "Building a Sustainable Future" 2017 will be hosted by the Schloss-Schule Kirchberg, a boarding school and Gymnasium in Kirchberg an der Jagst, Baden-Württemberg.

The course will invite 60 young people to discuss ideas connected to sustainability. The programme will enable participants to identify and critically engage with different core topics related to sustainability: ecology, economy, politics, society, technology. We live in a time facing many regional and global challenges that question existing and dominant practices of consumption, production and structuring. With global warming and global mass migration movements, questions need to be ask as to what a sustainable future might look like and what we can do in the present to achieve this.

The programme will consist of workshops and seminars discussing relevant theory and practice, as well as opportunities to meet the community, organisations and individuals to learn from. The participants will also be encouraged and enabled to organise their own projects and develop strategies of how they themselves can contribute to a sustainable future. This will enable them to proactively use and assess their learning experiences and to share their learning in their home communities.

The team of international trainers and facilitators is made up of UWC alumni and experts who are familiar with UWC Short Courses and the various topics of sustainability. In addition, students of the UWC Robert Bosch College, which actively focuses on sustainability, will join the team to share their learnings and experiences.

Researchers, community organisers, entrepreneurs and politicians will supplement the programme with engaging talks and hands-on workshops. Furthermore, participants will get the opportunity to interact with a broad range of people who have important stories to tell.

Dates for the course are: Tuesday 1st of August to Thursday 17th of August 2017.
Visit our website and tumblr page, follow us on Facebook and Instagram.