UWC Day - Alumni in Bangalore
21 September 2018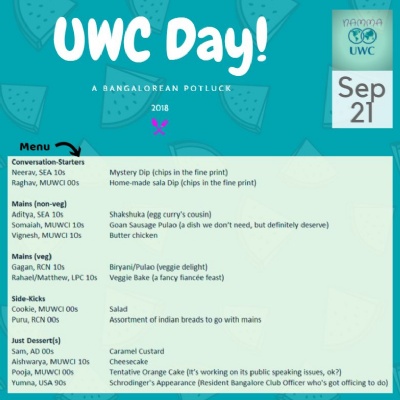 21 September, 2018 - Alumni get-together with food, drinks and crafts
We are going to get together for a potluck meal, and fair share of inter-generational story-telling on how individuals find ways to stay passionate and inspired. Also, very likely, arts and crafts for the kinesthetic folks! Each individual in attendance will have had their hands/minds involved in the making or preparation of their contribution to the potluck (direct store-bought with no adds/edits is highly discouraged).

We also have a wide range of graduates in the city, going anywhere from the early 2000s to the 2016! As as result, we are going to channel this inter-generational gift, and through a swapping of stories discover ways "to stay passionate and inspired."

For further information, click here.