The Power of Youth
18 November 2020
A UWC-Rise Panel Discussion
You are invited to the Rise-UWC panel discussion where we will explore "The Power of Youth" and how transformational education programmes such as UWC empower young people, including those from underserved communities, to become changemakers.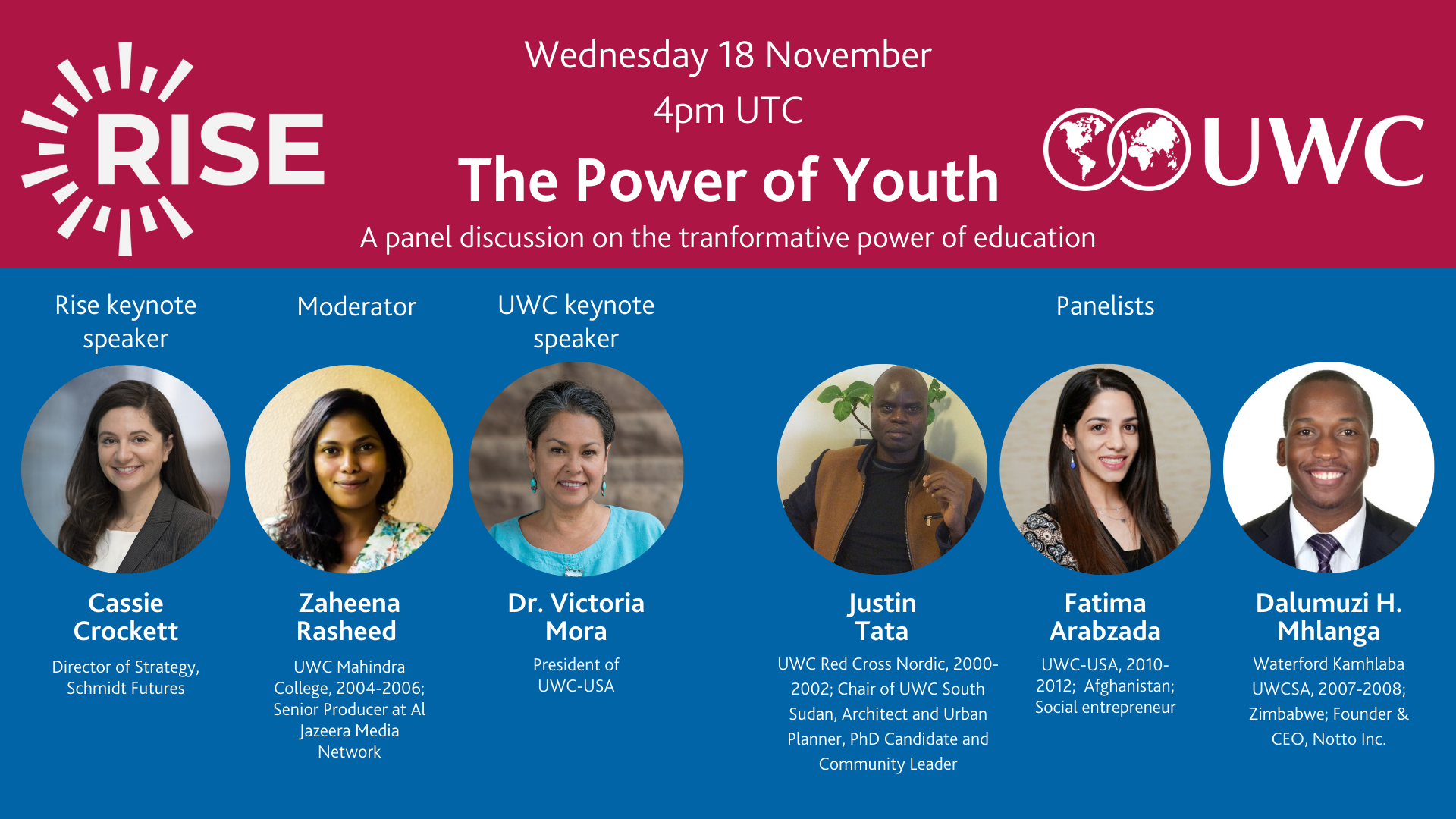 This talk is in collaboration with UWC's new partner Rise, an initiative of Schmidt Futures and the Rhodes Trust which will be launched on 16 November. The webinar will involve a panel of three UWC alumni, who came to UWC from refugee backgrounds, sharing their stories and exploring the different ways their UWC education impacted their journey of working for and supporting change in their home communities. The discussion and Q&A will be moderated by Al Jazeera journalist Zaheena Rasheed (UWC Mahindra College, 2004-2006).

Moderator: Zaheena Rasheed (Maldives), UWC alumna, Senior Producer at Al Jazeera Media Network, Winner of the 2017 Freedom of Expression Award.

UWC keynote speaker: Dr. Victoria Mora, President of UWC-USA
Rise keynote speaker: Cassie Crockett, the Director of Strategy at Schmidt Futures

Panelists:
Dalumuzi Mhlanga, founder and CEO of Notto Inc. from Zimbabwe and an alum of Waterford Kamhlaba UWC (2007-2008).
Fatima Arabzada, social entrepreneur from Afghanistan and an alumna of UWC-USA (2010-2012).
Justin Tata, alum of UWC Red Cross Nordic (2000-2002), chair of the UWC South Sudanese National Committee, architect and urban planner, PhD candidate and community leader.
You can register to join the event on the UWC Hub or watch live on the UWC Facebook page.