Decolonising, Reforming, and Connecting for Peace
18 September 2022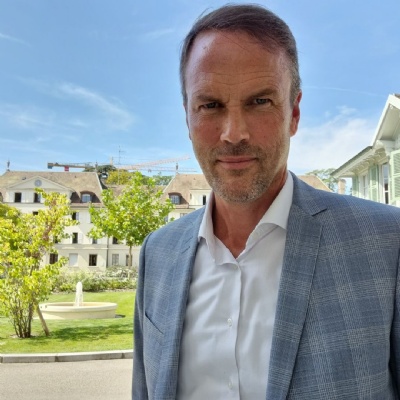 Conrad Hughes (Waterford Kamhlaba UWC of Southern Africa 1991-1993)
As Secondary Principal at the oldest international school in the world, the International School of Geneva, La Grande Boissière, Conrad Hughes (Waterford Kamhlaba UWC of Southern Africa 1987-1993) was busy preparing for the arrival of new students when we caught up with him. In this interview, Conrad shares his experience as a UWC student, teacher and education thought-leader, and explains the institutional shifts needed to put peace at the forefront of the global education agenda.
Conrad Hughes is a man with many facets – a husband and father, school principal, highly-regarded author, and a progressive educational thought leader. While these roles are seemingly worlds away from his days fighting apartheid as a student at Waterford Kamhlaba UWC of Southern Africa in the 1980s, they are all connected. He is a deep thinker who chooses his words with extreme care. Conrad believes that the language we use is of particular importance, as is our cultural context. His South African accent has softened after decades abroad, but his connection to Africa and his experiences there as a student are foundational to his work in education today.
"UWC really shaped my values through the idea that our purpose as a community is to be engaged in the social, environmental, and political context in which we find ourselves," he explains. "Waterford was so much more than a transmission model of academic knowledge and skills. We were focused on ending apartheid in South Africa, and with that came this conviction that what we were trying to do went way beyond what you'd expect in a bog-standard school. It went so far beyond the classroom. My UWC experience inspired me to look at my work in education as always going further than academics."
Before attending WK UWCSA in then-Swaziland, Conrad was enroled in an all-boys, primarily white South African Catholic school that positioned itself as progressive but was, in his experience, "brutal and racist."
"When I went to UWC, it was the first time I was interacting with students from all over Africa with whom I otherwise couldn't interact because of apartheid, while also meeting students from all over the world," he explains. "That extraordinary intercultural exchange chiselled my love of international mindedness and a school environment that looks at culture and, more specifically, cultural exchange and interaction as a richness."
In addition to purposeful engagement and international mindedness, Conrad highlights three dimensions that enriched his experience and shaped his outlook: service learning, diversity through national committee selection, and culture. It's these dimensions, he believes, that set the UWC movement apart. Conrad experienced service learning both as a UWC student and a UWC teacher when he returned to the movement to work under David Wilkinson at UWC Mahindra (MUWCI) in the early 2000s.
"Every Wednesday afternoon at UWC Mahindra, everybody was involved in CAS [creativity, action, and service]; I ran a weekly roadworks activity. As a student at Waterford, there was a year-long hot springs activity that paired students with patients from the children's hospital, and we would take them down to the hot springs to swim. I had this child, I remember, a victim of a fire, who had lost his nose. He would cling to me so tightly, holding on to my neck tightly each time we went to the hot springs. These visits were carefully curated by the school nurse Enid Eyeington along with her husband [Richard Eyeington, former head of WK UWCSA]. The continuity of service matters. There was always a flow of students from Waterford going to the hot springs, and there was no way we would let them down. At UWC Mahindra, one of our most important projects was a long-term partnership with a local children's orphanage. Again, it was ongoing, and we would never let them down. So service learning has always been important to UWC, which sets it apart."
Conrad is also keen to point out the uniqueness of the national committee selection process: "it's not just that you've got diversity, but that students come directly from countries all over the world. That gives us a more potent strain of spectacular diversity than international schools with an expatriate community already living in that country. Many UWCs also have policies where only one representative of any nationality can be in each dormitory. That deliberate mixing of nationalities adds a second dimension to UWC that sets it apart. And, of course, the bursary students coming through the national committees bring critical social diversity to the school. That is a wonderful thing at UWC; it's stronger than in other schools."
The third thing setting UWC apart is the culture, Conrad asserts, "UWC students tend to be quite outspoken, bold, and socially committed. There's an atmosphere more like an undergraduate college than a high school in many UWCs. Of course, that can occasionally veer into arrogance if you feel you are better than everybody else because you have a more sophisticated understanding of social justice. But that's a small price to pay for what is, overwhelmingly, an extraordinary level of social commitment that students share from the start. For me, those three things set UWC apart: service learning, a specific type of reinforced diversity, and then that esprit de corps you find in the students."
"For me, those three things set UWC apart: service learning, a specific type of reinforced diversity, and then that esprit de corps you find in the students."
The theme of UWC's 60th anniversary is educating for peace, a topic that Conrad is passionate about. In fact, in 2020, he led the publication of a UNESCO study entitled Preventing violent extremism through education: from policy to practice, which suggests that educators' overarching challenge is to find ways to carefully curate discussions on global events rather than avoid them altogether. "In the absence of educators' guiding hands," he argues, "social media will curate it for us and will not provide the scaffolding needed to nurture critically minded global citizens."
Nurturing the discussion of politically charged events is something Conrad feels UWC does well:
"In many schools, these questions aren't discussed at all, and when students are suddenly faced with them in university, they are unprepared. Something I liked about my experience at UWC Mahindra, and have since brought into other schools, was the ongoing discussion and debate of global affairs around world events. And there would be lively debates, even arguments amongst faculty, between students, and sometimes between students and faculty at college meetings. Peace is about diplomacy. However, it's vital to understand that, behind doors, diplomacy can be rough and robust and turn into arguments. For diplomacy to occur, there has to be psychological safety for people to say what they believe, open up, and be confident to disagree – even with authority figures. UWC does this; it shows students that the road to peace can also be quite robust and written with strong exchanges."
But, at a time when there are still wars happening on our doorstep, it's clear that we could and should still be doing more to progress the path of peace education. Conrad believes the global education sector has the potential to make a huge impact, particularly if they work to "decolonise the curriculum, reform high school transcripts, and use a one-to-one growth model to bring out the best in everybody". He goes on to explain that decolonising the curriculum is about so much more than just rethinking the geographic, political, historical and ideological positioning of a school's curriculum:
"It's about how you frame the story of human society using art and the humanities, even STEM, in an empirical and normative sense to celebrate what you know. We need to look, for instance, at the sociology of science and the history of science in a more inclusive manner to gently create a less aggressive and pugilistic approach to curriculum and syllabus. Part of that is allowing for discussion, looking at lesson time as a place where you can discuss the history of the subject and the ideas behind the subject more and more."
Conrad goes on to highlight the global citizenship refection tool his school has created as part of its Universal Learning Programme, "it encourages students to look at perspectives, narratives, and social responsibility whenever they learn something. We want them to ask, 'What can I do with this knowledge? Where does it come from? What stories are being told and which are not?' We need to do this more systematically."
Conrad suggests the reforming of high school transcripts is also important, "As long as we're in an ultra-competitive model, where the only thing that counts is the grade from a terminal examination, I think it subliminally creates quite a lot of aggression and one-upmanship, and teacher creativity goes out the window. While it might not directly create violence, I struggle to see how it creates a more mindful world. We need transcripts to include an accompanying learner passport, or some such way, to give admissions officers a little peek at the student's competencies across various areas. At the least, it could go with the transcript; at best, it could eventually replace it. That passport approach is even more critical when speaking about neurodiverse students or students with a concentrated interest in one area, like the arts."
Widening admissions criteria is also important, Conrad asserts, as we need to make schooling more mindful of everybody and make teaching more creative. Coming back to the UWC experience, Conrad recalls, "The students who put on plays at night and showed their best selves through that, and they were also 150% engaged in some kind of service learning; it's such a pity that all of that is ultimately a kind of side dish, that it doesn't count for any points. Of course, it will find its way onto a highly formatted college personal statement, but we say these things are important, and then we turn around and say, 'but it doesn't count for any points.'" Conrad feels strongly that this "points matrix" needs re-thinking, and says he believes this would also indirectly lead to "a more peaceful society, a more humane society, and a society where people are happier."
Lastly, Conrad feels it's vital that we address how we interact with each other, "I'm a big believer in one-to-one conversations. I have them with my faculty, team, and students – and I get my faculty to have them with their students. Once trained in coaching, which everyone should be, educators can put themselves in a coaching position with the students and ask powerful open-ended questions. We need to give students a space to open up. Often, individual violence is because there was no outlet early on, no one to talk to. I think it's a shame to have students go to school and never have meaningful conversations with a mentor or a trusted adult that allows them to open up. We need to break things down and take students one by one. And it can be done."
He believes getting this mentoring model right is hugely beneficial for all the relationships that happen within a school, "it's about establishing rapport and getting people to find someone who listens to them and lets them really open up to be their true selves. Many students go to school feeling frustrated, not recognised, seen, or understood, and never really have an opportunity to answer the simple question: 'how are things?' And I'm not talking about a specialist like a psychologist asking that question but your mainstream teacher because that's often where the rapport is strongest. So syllabus, assessment and rapport, all of these things can help."
So, how does the future look for an organisation like UWC, which puts peace and sustainability to the fore? How can it continue to evolve to meet the needs of the next 60 years? Conrad begins his answer with a reminder of how far UWC has come since he was first involved with the movement, "When I was at Waterford, and even at Mahindra, there weren't that many UWCs, and now there are 18. I see that expansion as good." He believes that there is plenty of room to evolve approaches to sustainability, "you could have more local hubs, attracting regional scholars, but I still think it's wonderful to have international students from overseas. At least 30% of our carbon footprint is to do with corporations and financial models. While that doesn't mean we should fly all over the world and not care, I think blaming a school with international borders for its carbon footprint shouldn't be our first approach to sustainability. I think there are other places we can start."
Ultimately though, Conrad says he feels that "UWC is the best expression of international education," and he feels immense gratitude for the impact it has had on his life, "The time I spent at UWC was so beautiful and brought me so much joy. I'm still in touch with a strong group of alumni, and they all have nothing but good memories. I hope to see more UWCs in the future."